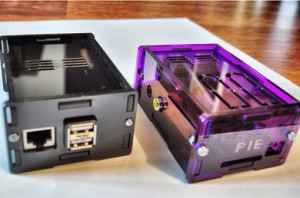 The acrylic case "Petrockblock Pie" was presented some time ago. The design files for that case were not publicly available until now and I have decided to change that: You can find the design now in the Downloads section!
These are the original design files that I used to order the cases from Ponoko / Formulor. I know that some of you were already waiting for this and I am sure that you will use the design for your own great projects!
If you want to edit the design, I can recommend Inkscape as editor. It is available for free and can be installed on various platforms.
Please note that the design is specifically made for the Raspberry Pi (TM) models A and B and not for models A+ and B+. However, it would be great if you could adapt the design to the model A+ or B+ and contribute it here so that the whole community can benefit from this. If you have something to share, you can either post that in the forum or directly get in contact with me.